Can The Exodus Make Your Next Investment Sweet Spot?
Can the exodus make your next investment sweet spot?
In the history of the world, people have migrated to other parts of their country, or different countries or continents.
Creating Prosperity
We as a civilization would never have prospered and grown if it were not for our family members of the past and those who are courageous today, willing to venture out to make their family and their lives better.
With all the conflicts in the world, people are migrating to make their lives and families' lives safer.
Venturing out can come at considerable risk; this risk carries over your financial net worth, no matter how big or small. In many cases, you don't have any employment or no income.
Investment Sweet Spots – Are You Taking Advantage of  Your Freedom?
Are you engaged in your investing, or are you handing over your life or hard-earned money to someone hoping they find investment sweet spots?
My investment advice for you, your family, friends, and the community's economic health is "Follow the Money."
My blog posts focus on investment real estate as part of your financial portfolio. In addition, my primary reasons are to help you think about how to build a strong financial foundation, unlock sustainable wealth, and create a living legacy.
Opportunities – Can The Exodus Make Your Next Investment Sweet Spot?
Dynamics are going on in the world that create opportunities for you if you take advantage of your freedom.
A good friend often says, "Follow the Money."
In addition, he refers to "Follow the Money" to find out the real reason most things happen globally, for instance, pharmaceutical or political developments, and you will know who is behind every move and why.
Following the Money is one of the ingredients to help nurture a better life recipe.
The North America Picture
North America, for instance, is behind a lot of big money. In addition, listening to broadcasts on the business news networks like CNBC and BNN gives you free knowledge of global financial information. However, are you watching and learning, and executing your financial freedom?
Don't let someone else intrepid this information and charge you for their interpretation, including me. Instead, make your own informed decisions.
Exodus is not only about people in North America; it is also about money.
In addition, getting money over the borders in the world is a lot easier than people.
In North America, you have to declare transporting anything over $10,000 in cash to border officials but investing money over $10,000 in the stock market over the border; you don't have to declare.
No Physical Wall or Border is a Money Barrier
If you do any investing, you will realize how easy it is to get your money over the border than yourself.  As an investor, you can have more influence sitting at home investing than trying to get over the border. You can reach a significant influencer in a large corporation from the comfort of your home.
Can the exodus make your next investment sweet spot? This place is closer to home than you thought.
Therefore, buy a few shares of a company and learn its corporate rules. Similarly, find out when they have their stockholder meeting and show up to voice your concerns.
How often have you heard stories of a handful of investors forcing policy change in a large organization?
Russia/Ukraine War Reaps Benefits for Most of the World
The Russians have proven that any country at any time can make a border seem invisible.
Do you remember before the start of Russia's invasion of Ukraine?
The Russians attacked Ukraine with cyber attacks.
Recently Elon Musk gave Ukraine access to his satellites to fight off the Russian cyberattacks; love him or hate him, Elon puts his resources where his mouth is. Are you?
Short Term Pain, Long Term Gain
The Russians attacking Ukraine are setting off many benefits for the rest of the world.
It may not feel like it right now for the Ukrainian people. Above all, I can not predict when Putin will be pounded into submission. But, my gut tells me it will happen.
Most of the world continues to support Ukraine. Above all, when the war dust settles, we will see a reconstruction effort in Ukraine like never before.  Ukraine is a country of heritage and cultural pride. Until that day happens, we must strengthen our wealth to be generous in the future at Russia's expense.
Western World's Sheep's Clothing
The Western World is finding many Russian wolves in the Western World's Sheep's clothing. As a result, many Western governments are seizing these Russian Oligric assets and stripping them of their blood money.
There is hope someday, some of this money will reimburse Ukraine for the damage the Russians have caused.
Helping Ukraines Find Safe Homes
Many countries will take in Ukraine immigrants.  Each country might benefit from this immigration. To learn more, please listen to a recent podcast show I was a guest on, "Where Should I Invest? hosted by Sarah Larbi, Vault to Investment Real Estate Success
Even though the Ukrainian immigrants can be good for most countries, my hope is at some point, if they want to return home to Ukraine, this option will be available to them.  It is one thing to immigrate to a country because it was your decision; however, being forced to make this decision because someone has attacked your country is different.
The Now
Therefore, as an investor in the United States, Canada, and all nations not supporting Russia. Follow the money, the people, and agricultural and resource-rich states, provinces, or countries.
Remember, it is easy to get your investment funds over the border and get an excellent return on your investments.
The movement of your investments is where you want your next investment sweet spot to be? Therefore, this can be anywhere you want.
I see significant opportunities in investment real estate, follow the money and watch jobs created.
Jobs need people, and people need housing.
A Few North American Sweet Spots
The affordability of housing, jobs, and natural resources makes Texas a sweet spot. Above all, don't forget an investment-friendly government.  Texas is not the only state in the USA to have opportunities, following the money and other conditions mentioned above.
Other Job Growth
Did you know Amazon created an additional 500,000 jobs since 2020 alone? Follow Amazon's money to their new locations of Amazon distribution centers; jobs, jobs, jobs.
In Canada, there is a trend going on. Canadians from Ontario, especially from the GTA (Greater Toronto Area), realize they will never see affordable housing in their lifetimes.
The Shift
There is a shift like in the USA, and people are waving goodbye to the GTA and heading West.  Why? Affordability of housing and jobs, good-paying jobs are on the shift.
Don't worry; California and Ontario will survive because they are both parts of great nations.
Alberta and much of Western Canada will be the sweet spots in Canada. But, above all, the world requires friendly access to reliable supplies.
Remember! Can The Exodus Make Your Next Investment Sweet Spot?
What Goes Around, Comes Around
I wrote an article in late 2017 and pointed out that Calgary and Alberta would see a departure, and Alberta did.
I have added a link (
View PDF)
. Click on and open the link   This article I wrote for the REINLife Magazine in  late 2017 entitled,
"The Stampede Has Left Calgary; Will it Ever Return?"
 (It is only a couple of minutes to read but gives you more insight into what goes around comes around.)
The Stampede Will Return
Alberta has taken more than a few punches since 2015/2016; this will change.

Tipping Point, The Scale Tips Slowly
Look at what I had to say about oil in the article above.  I suggested we needed a friendly government or governments. And even though Canada is working hard to stay on task to help global warming. The World is now weening itself of conflict oil and will look to more Friendlier Countries for its natural resources, Canada and the USA.
Be clear we are all seeing the shift to electric vehicles. But, the Russian war might shift us to a cleaner energy world quicker.  I am not saying tomorrow we will snap our fingers, and everyone will be driving electric vehicles.
Alternative Carbon-Neutral Energy Resources
If you think the movement to alternative carbon-neutral energy resources will be stopped dead in its tracks, this will not happen.
I have trust in most of the world, except Russia and China.  China continues to support Russia and buy its oil and gas, and I can predict that this will continue long into the future.
The rest of the world will continue to take action, and we can't worry about the inner workings of Russia and China; let's continue to place more restrictions on these countries. Let's isolate them from the rest of the world; they will come around as nations that can not survive long-term without the rest of the world.
We Need Action, Not Words
We need to create a reliable energy supply for the world and Europe; let's help a country like Germany get a friendly, more reliable supply of oil and natural gas.  The German government has a responsibility to its citizens, but it should not be coming at the death and destruction of the Ukraine people.
North Americans have to pull out all the stops to replace any oil and gas supply that countries are receiving from Russia.
Putin, See the Fickle Finger of Fate and Shove It
You may have seen a Ukraine soldier giving a Russian Destroyer the middle finger before Ukraine sunk the ship.
This action was so popular in Ukraine they created a postage stamp.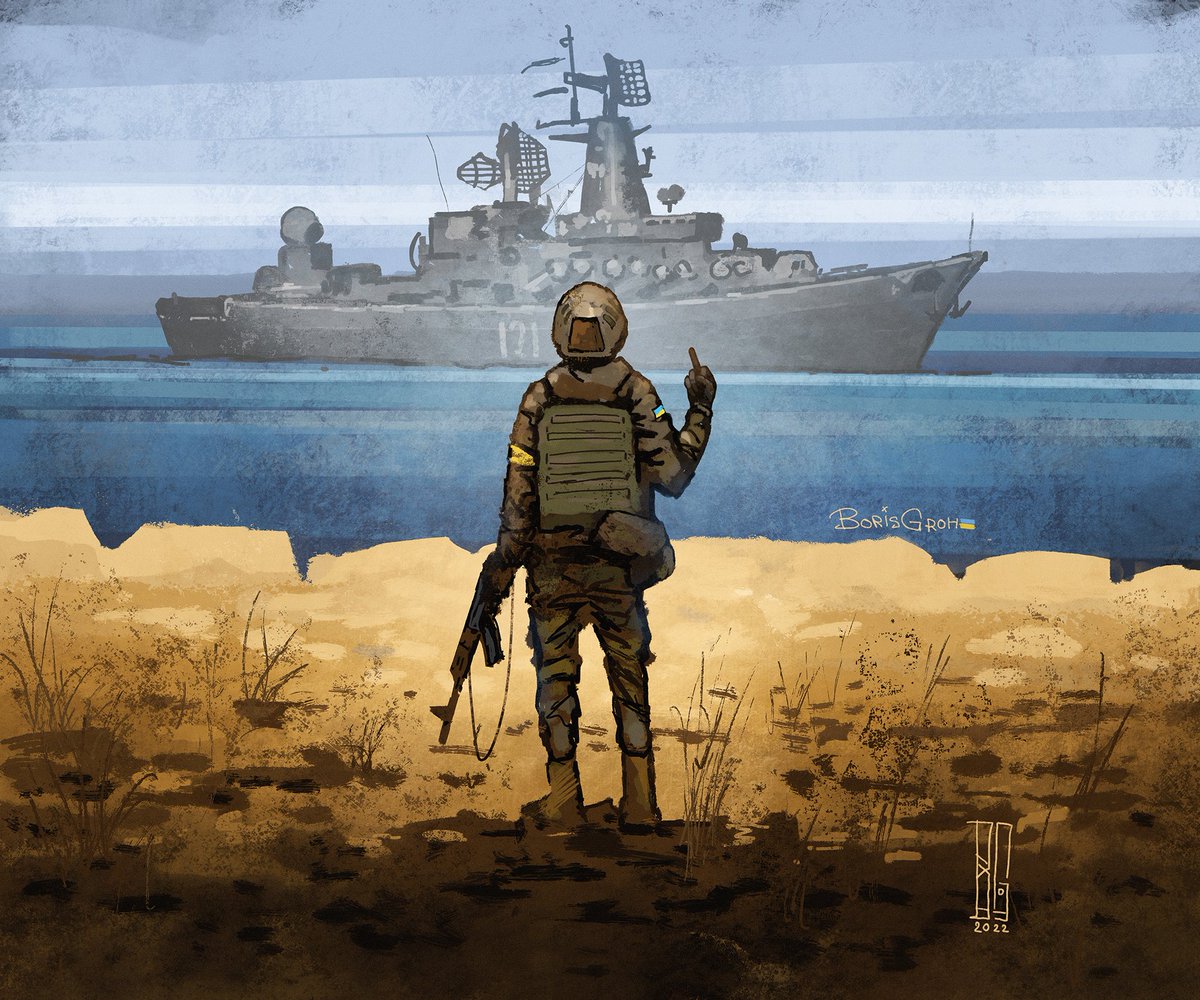 If most of the world supports North America to get their energy, the world can continue transitioning to cleaner energy and keep the momentum against Russia.
Putin is underestimating the impact of attacking Ukraine.  As a result, the world will become less relevant to Russia's oil. In the end, Russia will have fewer customers for their resources, leaving the Russian economy in shambles for decades to come.
Continue to Follow the Money
Follow the Money, don't let your investment funds sit on the sidelines; therefore, make your life better, and know you can help.  Can the exodus make your next investment sweet spot?
Please find the link to my book, 31 Days to Purchasing and Renting Your First Investment Real Estate Property. If you see investment real estate in your "Now," please purchase my book.